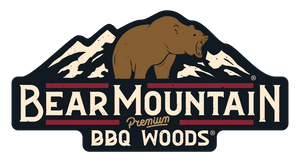 Unrivaled
Flavor Awaits
The ultra premium, all-natural BBQ wood pellets of Bear Mountain are available at Home depot - making it easier than ever to step up your grill game. Get your hands on the best kept secret in BBQ today!
FIND IN STORE
Unrivaled
Flavor Awaits
WHAT FOLKS ARE SAYING
ABOUT OUR PRODUCTS
Awesome Product
Excellent product, proper moisture content that provides great smoke and flavor.
Rex
Perfect For Beef - Great For Chicken
The smoke flavor is just perfect for beef and works well for chicken. Nice, mild smoke flavor that doesn't overpower the taste of a great steak. The pellets burn very clean with very little ash.
ToolBoxHero
The BEST
I have tried many different pellets and none come close to Bear Mountain. You can feel and see the difference as soon as you open the bag.
Bill D.
HOME GRILLERS UNITE
See how our fans use our pellets at home
ON THE GRILL
View our recipes for grilling inspiration.