Smoked Chicken Enchilada Stuffed Bell Peppers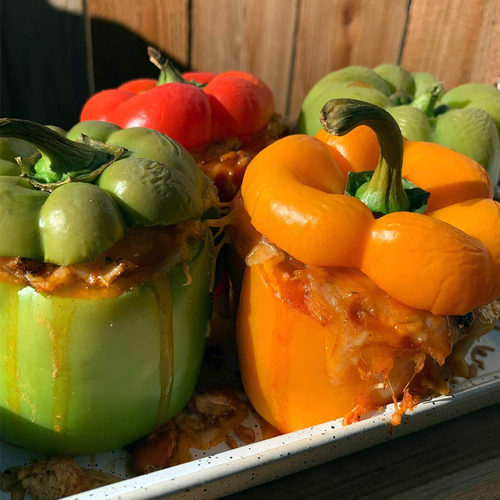 Like enchiladas? Try smoking them in bell peppers with this recipe from Bear Mountain ambassador Timothy Smith with @NoBonesBBQ87. 
Ingredients:
3-4 Boneless chicken breasts-smoked and chopped

White Bulls BBQ Taco Uppercut Rub

(Or taco seasoning of choice)

4 of your favorite color bell peppers

Spanish rice 

Pinto beans

Mexican blend shredded cheese

White onion- diced

Red or green enchilada sauce

Avocado & cilantro (optional garnish)

Bear Mountain Cherry BBQ pellets (or favorite flavor of choice) 
Cooking Instructions:
Coat each chicken breast in Upper Cut (or taco seasonings of choice). Let sit aside to "sweat" and marinate the chicken. 

Start up your pellet grill or smoker with Bear Mountains pellets of choice, I used Cherry, to 265 degrees. 

While the grill is heating up, prep your rice and beans.

When the grill is to temp, add chicken and smoke until internal temp is 160 degrees, then sear on charcoal grill or hot cast iron until internal temp of 165 degrees.

Cut off the tops of the bell peppers and clean out seeds/insides. Dice onions and set up an assembly line to stuff peppers. 

Once everything is complete, layer each item into peppers
Rice

Beans

Chicken

Drizzle with enchilada sauce

Cheese

Onion
Repeat layers until full, with the final layer being cheese.
Top with top of the bell peppers. 
Place back into your pellet grill or smoker at 350 degrees until peppers are soft and cheese is bubbly.
Top off with avocado and cilantro to garnish.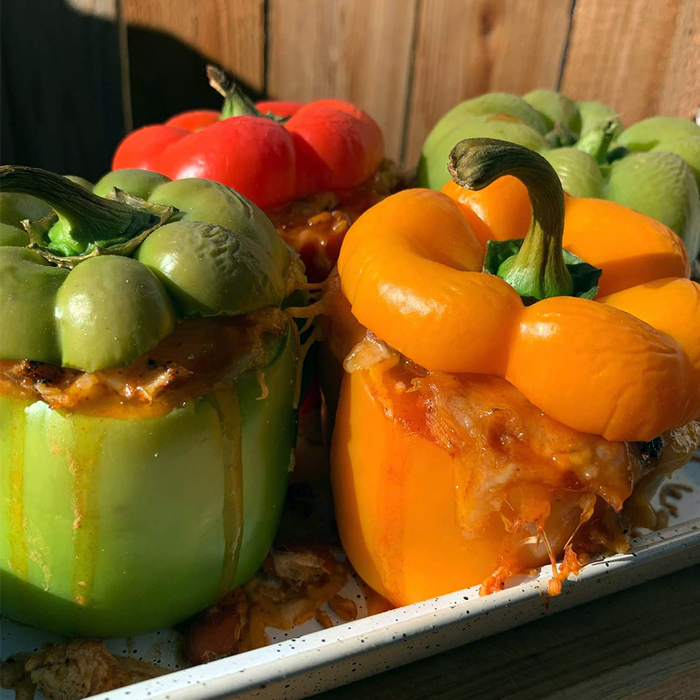 Pairs well with the following Bear Mountain Premium BBQ Pellets