Hot Honey Chicken Wings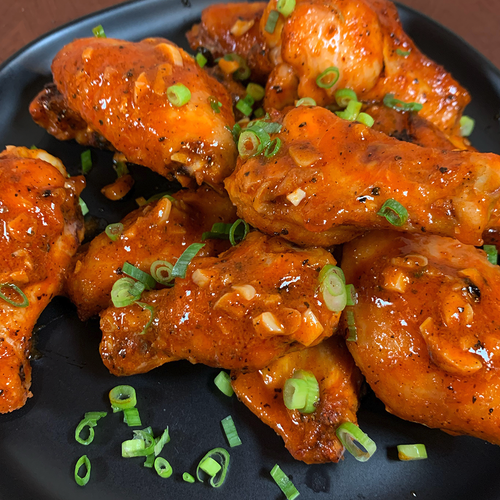 Bear Mountain ambassador Brian Gerwig with @g_bque is a master when it comes to BBQing chicken wings, and these are no exception!
Total Prep Time: 3 hours
Total Cook Time: 45 minutes
Servings: 3-5 servings
Ingredients:
3 lbs of Chicken Wings

Your favorite bbq rub (I use

Rainier Foods 'Omega'

)

½ stick of butter

3 cloves garlic, minced

3/4 Cup Hot Sauce

2 Tbsp honey
Instructions:
Place wings on wire rack in fridge for 3 hours (this helps dry the skin out, which makes for a crispier wing).

Season your wings with olive oil and rub of your choosing.

Set your smoker or pellet grill to 350° and pour in Bear Mountain Gourmet pellets.

Place your wings on your pellet grill or smoker, flipping ½ way (350° for about 45-50 minutes until an IT of 190°)

To make the sauce, add all ingredients and melt over low heat in a pan until everything is incorporated.

Once the wings are done, coat in sauce, and enjoy!
See how Brian Gerwig does it here.
Pairs well with the following Bear Mountain Premium BBQ Pellets