Honey Balsamic Salmon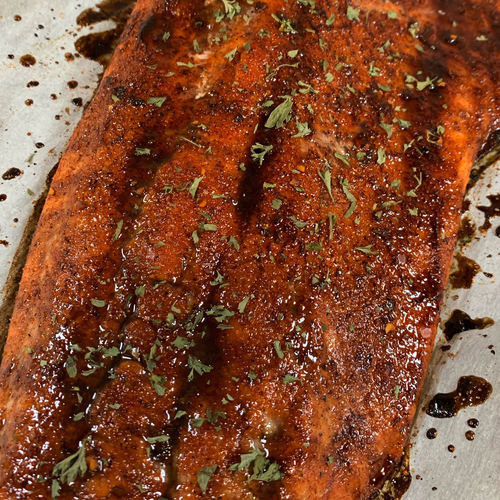 For the ideal summer meal on the grill that is tasty and healthy, try this Honey Balsamic Salmon from Bear Mountain ambassador Brian Gerwig of @g_bque. 
Total Prep Time: 30 minutes
Total Cook Time: 30 minutes
Servings: 4-5 servings
Ingredients:
1 whole salmon

Your favorite bbq rub (I used

Whiskey Bent BBQ "Pecanerry,"

which is a blend of Pecan & Cherry)

1 cup balsamic vinegar

4 Tbsp of honey

4 cloves of garlic, minced

Bear Mountain Bourbon pellets
Instructions: 
In a saucepan, combine balsamic vinegar, honey, and garlic.

Bring to a light, boil, and reduce about ½ way.

Preheat your pellet grill or smoker to 350° for 15 minutes, pouring in Bear Mountain Bourbon BBQ pellets.

Season your salmon, using your favorite BBQ rub.

Grill your salmon for 25-30 minutes, brushing your salmon with your sauce every 10 minutes.

Once your salmon hits an internal temp of 145°, pull it off the grill and top with parsley.
To watch Brian prep and BBQ the salmon, click here.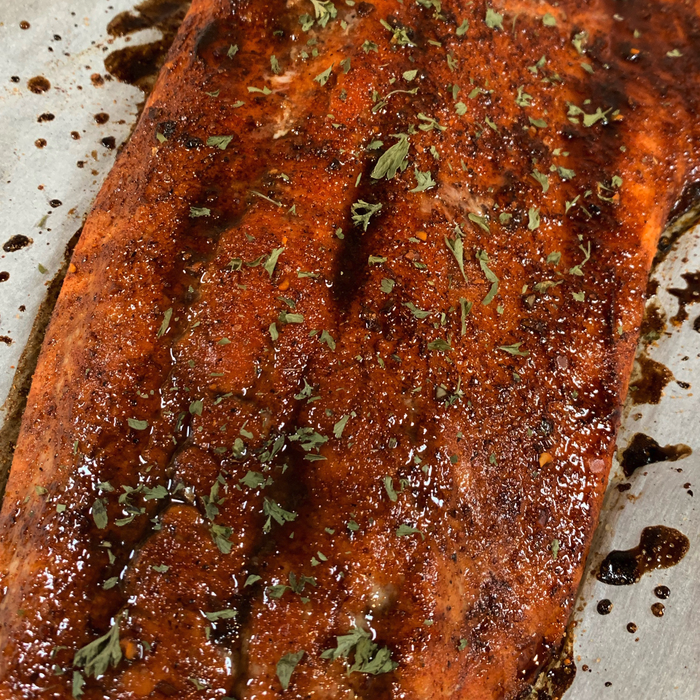 Pairs well with the following Bear Mountain Premium BBQ Pellets