Creamy Blue Cheese Burgers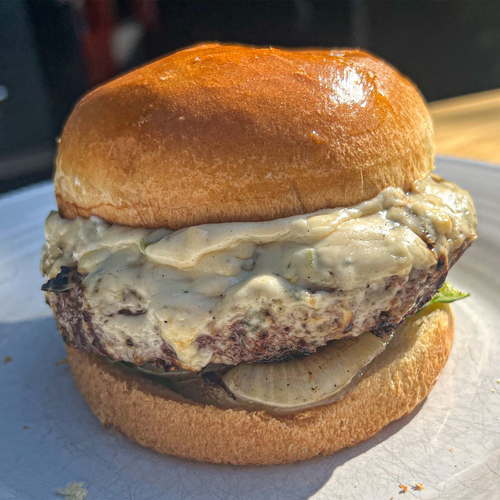 Total Prep Time: 15 minutes
Total Cook Time: 10 minutes
Servings: 2-4 serving
Recipe by Brandyn Baker of @blackdog_bbq
Ingredients:
· 2 lbs. (four 8-oz.patties) hamburger patties
· 4 buns
· Salt and pepper to taste (or rub of choice)
· 1 sweet onion, sliced
· ¾ C mayonnaise
· ¼ C sour cream
· ¼ C green onions, sliced
· 1 ½ TSP Worcestershire sauce
· 2 T lemon juice
· 1 T distilled white wine vinegar
· 1 T heavy cream
· 1 package (4 oz.) blue cheese, crumbled
· Lettuce to garnish


Sautéed Onions:
Place butter in a pan over medium high heat. Once the butter has melted, add the onions and sauté until tender, about 10 minutes. Set aside in a bowl until ready to use.
Blue Cheese Dressing:
Add the mayonnaise plus the next 7 ingredients to a bowl and stir until well combined. Refrigerate up to 1 week or until ready to use.
Cheeseburgers:
Preheat grill to its highest setting. Meanwhile, season the burger patties liberally with salt and pepper. Set the burgers aside until ready to cook.
Once the grill has preheated, place the seasoned patties on the grill. Allow the burgers to cook for 5-6 minutes. Next, flip the burgers, top with the creamy blue cheese mixture, and continue cooking until the patties register a minimum of 155 degrees, roughly 5-6 more minutes. Remove the cheeseburgers from the grill and turn off the burners.
Place the bottom half of a hamburger bun on a plate. Top with lettuce if desired plus a handful of the sautéed onions. To finish, add the cheeseburger patty and place the other half of the bun on the burger.
Serve with your sides of choice and enjoy!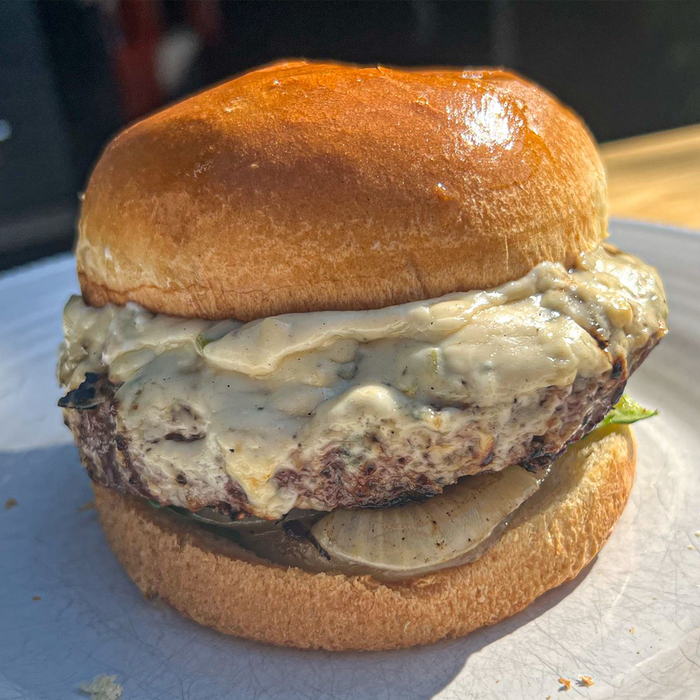 Pairs well with the following Bear Mountain Premium BBQ Pellets