Beer Cheese with Pretzel Bun Sliders
These delicious sliders from Bear Mountain ambassador Brian Gerwig of @g_bque are sure to be a crowd favorite.

Total Prep Time: 1 hour
Total Cook Time: 45-60 minutes
Servings: 3-5 servings

Beer Cheese:
-1/2 stick butter
-1/4 cup flour
-1/2 tsp garlic powder
-1/2 tsp onion powder
-1/2 tsp paprika
-1/8 tsp cayenne
-1/2 can of beer
-1 cup whole milk
-1 tsp Dijon mustard
-1 tsp Worcestershire
-8 oz sharp cheddar cheese
-4 oz Gruyère cheese

Other ingredients:
-Pretzel slider buns
-Ground beef of choice
-Bear Mountain Gourmet pellets

Cooking Instructions:
1. Start by making your beer cheese.
2. Place a cast iron pan on your pellet grill and set the temperature to 350° and pour your Bear Mountain Gourmet BBQ pellets into the hopper.
3. Melt butter and then add flour, spices, and combine.
4. Slowly pour in milk to combine and then add in your beer of choice.
5. Add mustard and Worcestershire.
6. Add cheese and stir occasionally until melted (about 20-30 minutes).
7. While your cheese melts, grill burgers (season to your liking).
8. Toast your pretzel slider buns (I used King's Hawaiian) on the grill.
9. To your toasted buns, add mayo, pickles, lettuce, and burgers.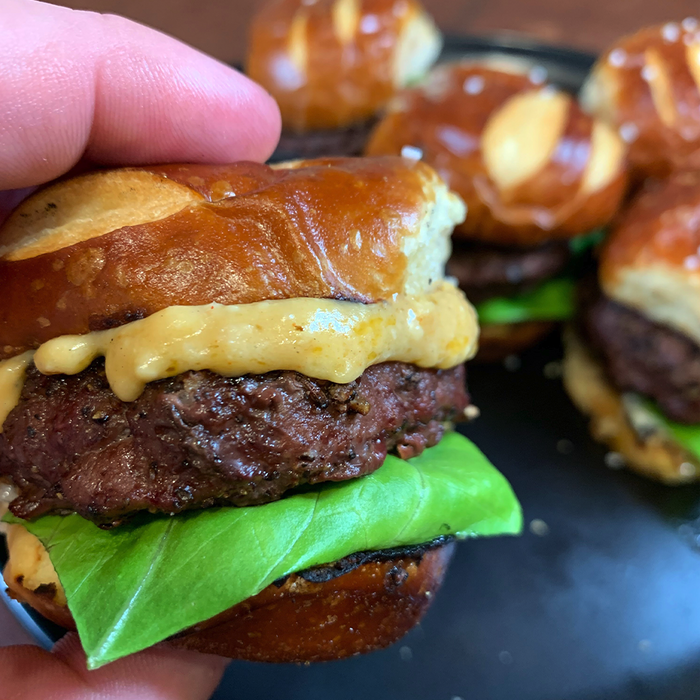 Pairs well with the following Bear Mountain Premium BBQ Pellets